Humanitarian Crisis in Afghanistan: Threat of Violent Extremism and IHL
After the fall of Kabul to the Taliban in August last year, the funds in the central bank of Afghanistan were frozen, quickly raising concerns in the international community of the economic collapse and subsequent humanitarian crisis in Afghanistan. Given that 80 percent of Kabul's economy is dependent on foreign aid, a lack of international monetary assistance suggested that Afghans may not possess a sufficient income to meet basic livelihood needs. A study by the United Nations Development Programme predicted that ninety-seven percent of the Afghan population is under the risk of being impoverished, with Afghanistan likely to experience poverty by mid-2022.1United Nations Development Programme. "Economic Instability and Uncertainty in Afghanistan after August 15." UNDP, 9 Sept. 2021, www.undp.org/publications/economic-instability-and-uncertainty-afghanistan-after-august-15.
Structural inadequacies in conflict-ridden countries such as Afghanistan supplement the existence of active drivers of violent extremism. While many factors instigate radicalization, drivers such as poverty—especially in the context of Afghanistan—remain relevant in motivating lower and upper-middle classes to resort to violent extremism. Kabul's collapsing economy and nearly inoperative governance due to restricted international aid is likely to push Afghans to join extremist groups—ISK and Al Qaeda—not only for material security but also to access cheaper alternatives of education and health services. The IHL framework facilitates international organizations to provide unconditional services. With the legal framework in place, aid must be provided to Afghanistan.
The Unfolding Humanitarian Crisis in Afghanistan
Already reliant on the foreign financial assistance, the economy of Afghanistan took a plunge after the Taliban takeover of Kabul. While forty-percent of Afghanistan's gross domestic product (GDP) came2Nagesh, Ashitha. "Afghanistan's economy in crisis after Taliban take-over." BBC News, 25 Aug. 2021, www.bbc.com/news/world-asia-58328246 from international aid, the economy started to deteriorate as soon as the Taliban took control as countries such as the U.S. and the international organizations froze3Mohsin, Saleha. "US freezes Afghan central bank's assets of $9.5bn." Al-Jazeera, 18 Aug. 2021, www.aljazeera.com/economy/2021/8/18/us-freezes-afghan-central-banks-assets-of-9-5bn assets in the Afghan central bank. Given that the government remained dependent on the assets of the central bank to channel resources for public services, the collapsing banking system, and dysfunctional economy had a trickle-down effect on the country's governance especially on health, and education.
For one, Afghanistan's health system has come under the crisis. Citing the restricted foreign assistance, the International Committee of the Red Cross (ICRC) predicted the closure of ninety percent of health clinics in Afghanistan.4"Crisis in Afghanistan: Unprecedented hunger after the conflict." Rescue.org, 7 Jan. 2022, www.rescue.org/article/crisis-afghanistan-unprecedented-hunger-after-conflict#:~:text=Afghanistan%20could%20see%20near%20universal,and%20malnutrition%20to%20health%20crises Furthermore, the ICRC also reported a thirty-fold increase in the number of children suffering from malnutrition in Khost, signaling the need for urgent medical treatment.5Arcuri, Hope. "IRC warns of growing crisis in Afghanistan as millions pushed to brink of famine and ​​UN releases historic $5 billion appeal." Rescue.org, 11 Jan. 2022, www.rescue.org/press-release/irc-warns-growing-crisis-afghanistan-millions-pushed-brink-famine-and-un-releases#:~:text=Kabul%2C%20Afghanistan%2C%20January%2011%2C,prevent%20humanitarian%20catastrophe%20in%202022
Similarly, a lack of funds and rising inflation aggravates food insecurity in Afghanistan. Even before the Taliban takeover, Kabul was suffering from decreasing crop production due to acute6Simon, Maite F. "More than half of Afghanistan's population faces 'acute' food crisis this winter, U.N. finds." The Washington post, 25 Oct. 2021, www.washingtonpost.com/world/2021/10/25/afghanistan-food-crisis/ drought and reduced7Arcuri, Hope. "IRC warns of growing crisis in Afghanistan as millions pushed to brink of famine and ​​UN releases historic $5 billion appeal." Rescue.org, 11 Jan. 2022, www.rescue.org/press-release/irc-warns-growing-crisis-afghanistan-millions-pushed-brink-famine-and-un-releases#:~:text=Kabul%2C%20Afghanistan%2C%20January%2011%2C,prevent%20humanitarian%20catastrophe%20in%202022 levels of rainfall. Last year in September, Afghan citizens were forced to sell their belongings on the street-sides due to hunger and shortage of money.8Kabul (AFP). "Fleeing Afghans sell their wares at Kabul's busy bazaars." France24, 13 Sept. 2021, www.france24.com/en/live-news/20210913-fleeing-afghans-sell-their-wares-at-kabul-s-busy-bazaars
The collapsing economy, and incapacitated health system are indicative of the on-going humanitarian crisis in Afghanistan. Without much help in the form of aid or grants, Afghans may be compelled to join extremist groups to fulfil their basic livelihood needs.
The Drivers of Radicalization in Afghanistan
As Afghanistan undergoes a humanitarian crisis, the lack of economic opportunities and insecurity of capital acquisition could possibly drive citizens towards extremism. For instance, as the ISK group resurges and reinforces itself in Taliban-controlled Afghanistan, it has been argued9Jadoon, Amira, et al. "The Islamic State Threat in Taliban Afghanistan: Tracing the Resurgence of Islamic State Khorasan – Combating Terrorism Center at West Point." Combating Terrorism Center at West Point, 14 Feb. 2022, ctc.usma.edu/the-islamic-state-threat-in-taliban-afghanistan-tracing-the-resurgence-of-islamic-state-khorasan/ that former Afghan security officers, who are uncertain of future employment prospects, are a potential target for the ISK to rebuild itself.
More importantly, as international financial assistance remains restricted in the Taliban-led Afghanistan, young Afghans may not be able to access a moderate education system. Haroun Rahimi, Associate Professor of Law at the American University of Afghanistan who I spoke to for this article, argues that this would allow the Taliban to promote their version of education curriculum and would keep young Afghans from developing critical thinking which is known to make people resilient against radicalization. Using education to influence people towards radicalism is not a new tactic but has been previously practiced by Islamic State to radicalize people.10Jones, E. (2017). The reception of broadcast terrorism: recruitment and radicalisation. The Reception of Broadcast Terrorism: Recruitment and Radicalisation. https://www.tandfonline.com/doi/full/10.1080/09540261.2017.1343529?scroll=top&needAccess=true
Relevant in the current scenario, extremism ties back to socio-economic compulsions. For instance, groups attract people who either lack resources or are unemployed. The fact that these groups are able to provide monetary benefits—such as vehicles, cell phones, arms—is what appeals to citizens.11Fazli, Reza, et al. "Understanding and Countering Violent Extremism in Afghanistan." Washington, DC: United States Institute of Peace, 2015. In a country like Afghanistan where conflict over the past two decades has restricted economic opportunities, the on-going humanitarian crisis exacerbates the situation by causing further displacement. An assessment conducted by ICRC in Afghanistan noted a lack of food and livelihoods as the prominent reasons for causing displacement. Marred by impoverishment, displaced citizens see terrorist groups as a source of livelihood and sustained financial outlet. In Bangladesh, where climate-change induced impacts—floods—caused massive displacement, people were thought to have joined extremist groups because they provide charitable services and a sense of identity for displaced people.12McAdam, Jane, and Ben Saul. "Displacement with dignity: International law and policy responses to climate change mitigation and security in Bangladesh." German YB Int'l L. 53 (2010): 233.
Along with economic conditions, factors such as religious motivations and anti-American rhetoric has also previosuly encouraged recruitment in the groups such as Al Qaeda and Islamic State. One study indicates that forty-five percent of the fighters from the Liberation Tigers of Tamil Eelam (LTTE) joined the group due to a sense of collective identity.13Gomez, A., Martinez, M., & Martel, F. A. (2021). Why People Enter and Embrace Violent Groups. Why People Enter and Embrace Violent Groups. https://www.frontiersin.org/articles/10.3389/fpsyg.2020.614657/full The case in Afghanistan is no different where young men had previously joined extremists' groups due to family linkages. For example, the young were invoked to continue the legacy of their fathers who fought against Soviet forces in the 1980s as mujahidin.14Fazli, R., Johnson, C., & Cooke, P. (2015). Understanding and Countering Violent Extremism in Afghanistan. Understanding and Countering Violent Extremism in Afghanistan. https://www.usip.org/sites/default/files/SR379-Understanding-and-Countering-Violent-Extremism-in-Afghanistan.pdf  Dr. Zahid S. Ahmed, Research Fellow at the Alfred Deakin Institute for Citizenship and Globalization, who I also spoke to for this piece, notes groups such as ISK—with its anti-West rhetoric—are appealing to middle-class Afghans especially after the West's handling of the financial crisis in Afghanistan after the Taliban took power.
IHL Framework: Facilitating Humanitarian Assistance
With the rising threat of extremism, the Taliban and international community must find a middle ground to allow the functioning of humanitarian programs and ensure flow of cash within the country. The IHL can be instrumental in facilitating the assistance, given only if some provisions are revised.
The IHL framework governing the humanitarian access to IAC or NIAC allows humanitarian activities aimed at "preserving life and security or seeking to restore or maintain the mental and physical well-being of victims of armed conflict."1532nd International Conference of the Red Cross and Red Crescent, "International humanitarian law and the challenges of contemporary armed conflicts" Geneva, Switzerland, 8-10 December 2015. Document prepared by the International Committee of the Red Cross. https://www.icrc.org/en/document/international-humanitarian-law-and-challenges-contemporary-armed-conflicts Article 9 and 3 common to Geneva Conventions establish a right of humanitarian initiative for the international organizations, i.e. they have the right to offer services without States (parties to conflict) regarding this as an unlawful interference.
The presence of terrorist groups in Afghanistan and their potential connection with the civilians may complicate the humanitarian assistance.16Committee on Foreign Relations United States, Senate. "AL QAEDA, THE TALIBAN, AND OTHER EXTREMISTS GROUPS IN AFGHANISTAN AND PAKISTAN." U.S. Government Publishing Office, Committee on Foreign Relations, 24 May 2011, www.govinfo.gov/content/pkg/CHRG-112shrg67892/html/CHRG-112shrg67892.htm This is because the IHL framework criminalize humanitarian action to the civilian population, given there is an "association with" terrorist organizations.1732nd International Conference of the Red Cross and Red Crescent, "International humanitarian law and the challenges of contemporary armed conflicts" Geneva, Switzerland, 8-10 December 2015. Document prepared by the International Committee of the Red Cross However, in 2011 report by ICRC, it was noted that this criminalization counters the spirit of 1949 Geneva Conventions—under article 3 ICRC is mandated to provide services to NIACs. That said, it must also be noted that states need to introspect and revise the legal obligations as to clearly distinguish between provisions related to humanitarian assistance and counterterrorism. In context of Afghanistan, policies to thwart the provision of humanitarian aid would reduce economic opportunities and only increase anti-American sentiment amongst the Afghans, pushing them towards the extremist groups.
The takeover by the Taliban after the U.S. withdrawal and the subsequent evaporation of foreign aid precipitated the humanitarian crisis in Afghanistan. Given that hard-currency is not accessible to people to meet basic needs, extremist groups could possibly step in to fill in the vacuum, pushing people towards extremist ideologies. Continuing humanitarian assistance would help Afghans access basic necessities, fending off the possibilities of falling into the trap of radicalization. Therefore, the need for humanitarian assistance is more urgent than ever before.
The opinions expressed in the articles on the Diplomacy, Law & Policy (DLP) Forum are those of the authors. They do not purport to reflect the opinions or views of the DLP Forum, its editorial team, or its affiliated organizations. Moreover, the articles are based upon information the authors consider reliable, but neither the DLP Forum nor its affiliates warrant its completeness or accuracy, and it should not be relied upon as such.
The DLP Forum hereby disclaims any and all liability to any party for any direct, indirect, implied, punitive, special, incidental or other consequential damages arising directly or indirectly from any use of its content, which is provided as is, and without warranties.
The articles may contain links to other websites or content belonging to or originating from third parties or links to websites and features in banners or other advertising. Such external links are not investigated, monitored, or checked for accuracy, adequacy, validity, reliability, availability or completeness by us and we do not warrant, endorse, guarantee, or assume responsibility for the accuracy or reliability of this information.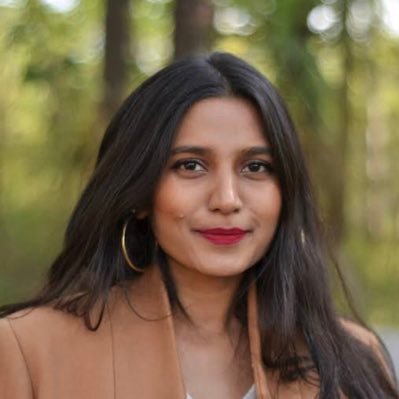 Kashoon Leeza is an Islamabad-based policy analyst. She has worked as Advocacy & Editorial Specialist in Islamabad Policy Research Institute, where she led policy advocacy in the region and beyond. She was the Visiting Fellow at Stimson Center's South Asia Program, 2021 Cohort. As a fellow, she worked with stakeholders in Pakistan and the U.S. on "Driving Pakistan-U.S. B2B engagement based on Tech and Clean Energy Sectors". Currently, she is working as Policy Advocacy Lead at Pakistan Software Houses for IT & ITeS. Listed amongst Young Leaders under 30, she was hosted for the 'Big Brainstorm' focus group in Islamabad in 2021 jointly conducted by the Tabadlab and The UN Foundation.